Southwest Plastic Surgery of El Paso, TX offers several brilliant treatment methods for the upper chest area, as well as other parts of the body which may show telling signs of sun damage.
Laser Resurfacing or Broad Band Light (BBL): Laser skin resurfacing in El Paso is available for women with noticeable moderate to serious sun damage. Our board-certified plastic surgeon delivers skin rejuvenation through a laser, which delivers energy to the affected areas, helping to stimulate collagen regrowth and new cells. The treatment requires several visits to achieve visibly smoother and tighter skin, while also reducing the blotches and sun spots or freckles caused by sun damage.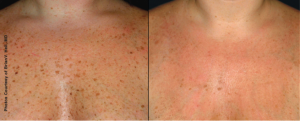 Ultherapy®: This fairly new, non-invasive technique is FDA-approved to help firm and tighten the chest area, as well as other parts of the body, such as the face, neck, forehead, etc. Ultherapy® also stimulates new collagen growth by focusing energy into the underneath, deeper layers of skin, without harming the surface. It continues working for three months or longer, and the results last for a couple of years. This is an ideal solution for women who want to improve the look of fine lines and wrinkles because Ultherapy offers a deeper treatment than lasers.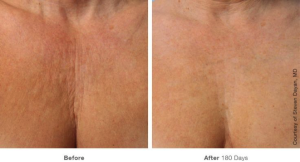 Chemical Peels: If the chest area is only mild, or if a patient wants to spend less, the chemical peels offer nice results. These are exfoliating treatments to "perk up" dull skin, hyperpigmentation, and fine lines or wrinkles. Patients have a choice between moderate to deep peels, depending on the chemical mixture created by our specialist; and based on the patient's needs. The outer layer of skin is most vulnerable to sun damage; therefore it is best not to go out in the sun for a few weeks after a chemical peel until the skin has a chance to form new, healthy skin. However, the results are beautiful after those freckles and skin imperfections get peeled away, literally!
Summer is here, so don't spend yours hiding behind your skin flaws. If you love wearing shirts that reveal a beautiful cleavage, then come see The Med Spa at Southwest Plastic Surgery in El Paso or Las Cruces to talk about the best remedy for your upper chest beautification process.