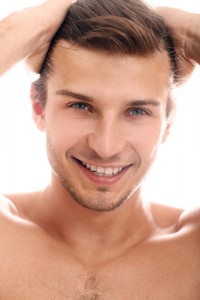 Now, more than ever, more men are getting cosmetic procedures in El Paso and in other places around the country. Although women still rule the plastic surgery industry, statistics released by the American Society for Aesthetic Plastic Surgery (ASAPS) points to a growing number of men who are no longer content to let the aging process happen naturally. Over a million men in 2013 underwent cosmetic surgeries, and over the course of fifteen years, the tally of men receiving cosmetic enhancements has soared by 273% since the late nineties.
Surprisingly, it is not just older men who are opting for cosmetic surgery. Even younger men who want to refresh their appearance or who are unsatisfied with wrinkles, under-eye baggage or double chins are no longer hiding their need for correction.
What kind of plastic surgery procedures are most popular among men?
At Dr. Frank Agullo's plastic surgery center in El Paso, TX and Las Cruces, NM, many men are choosing procedures at The Med Spa at Southwest Plastic Surgery. Their popularity may be attributed to the ease and convenience of many new treatments that have become available to men, such as chemical peels, skin laser resurfacing, injectables like Botox, Radiesse, Belotero Balance or Xeomin; as well as LED therapy, Kybella and more to reverse the appearance of aging on their faces. These were once dominated by women in the cosmetic marketplace, and still are, but the men are also "manning" up to the opportunity of cosmetic treatments that are non-invasive and very effective.
Another thing that makes these cosmetic procedures more appealing for men is the fact they can make an appointment at Dr. Agullo's practice, come in for an hour treatment and then return to their job or social obligations shortly thereafter, without a long lag time for healing and recovery. It is almost as easy for men to get a cosmetic treatment as it is to go to the dentist for a filling.
More men are also getting facelifts than ever, although these are more time consuming than the MedSpa services. Trends show that many of today's modern males care more about getting a facelift than they do about buying a hot rod or some other mid-life splurge!
Beware of Beer, Guys
Other popular procedures for men in the Southwest region are liposuction or correction of chest irregularities. Fox News recently released a story about the chemical effects of beer hops giving men those undesirable "Man Boobs", particularly with long-time beer drinkers. Ale beers were found to be a major culprit of extra fatty tissue in the male chest (breast); primarily because of the high levels of plant estrogen found in the hop plant used to make the beer.
Long term beer drinkers may see breasts developing, as well as premature aging, beer bellies and even hair loss. All of these can be corrected with liposuction, hair loss treatments such as PRP or hair transplants, as well as "chest" reductions.
There is no question that plastic surgery procedures for men are in demand. If you are a man who is considering a facelift, plastic surgery, liposuction or cosmetic procedures of any kind, contact Southwest Plastic Surgery to talk to Dr. Frank Agullo about your concerns. The consultation is completely confidential and he can show you the before and after images through an innovative 3D Vectra system.