Pectoral Implants for Men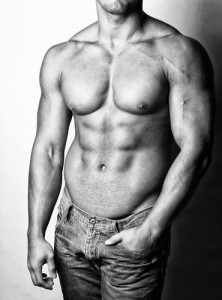 Have you ever wished that you could have a muscular chest with great pecs but without having to do thousands of push-ups? Or have you slaved away to do those push-ups and still have yet to see the fruits of your labors? Having a ripped chest with strong pectoral muscles is an important physical mark for all men. A muscular, broad chest gives a man a more youthful and desirable physique, making him look like a gym-loving bodybuilder even if he hates to exercise. But, while only some men can achieve a muscular chest through intense exercising, any man can achieve this look by getting pectoral implants. And, since risks and complications associated with chest implants are quite rare, more and more men today are getting them to enhance their chest appearance.
Masterfully Shaping Your Chest
Have you tried careful dieting and exercise regimes with intense weight lifting, yet you've been unable to achieve that firm, cut bodybuilder's chest? Or do you want to have that appearance without having to go through the exhausting work to get it? Enter pectoral implants. Pectoral implants for men masterfully shapes a man's chest without him having to try to make it happen through body-breaking weight-lifting regimens or steroid abuse.
As a chest implant, pectoral implants for men are indeed similar to breast implants for women. But though the concept is similar, the implants themselves are quite different. Women's breast implants are typically meant to create the appearance and feel of soft breast tissue, while men's pectoral implants are solid and durable silicone to create a stiff muscular feel. The result is that rock hard muscular looking chest that makes you look and feel like the sexiest man in the world.
Combination Procedures for Even More Masculine Shaping
While masterfully inserted pectoral implants will give your chest a naturally firm and masculine look, combining other plastic surgery procedures can do even more. At Southwest Plastic Surgery, we often perform additional procedures in conjunction with chest implants, such as liposuction. Through pectoral etching, our doctors help to further define the chest by removing excess fat and creating clear chest lines and shapes. Some men also have abdominal liposuction done to minimize the stomach area while enhancing the chest.
If you have any questions regarding pectoral implants, we encourage you to call Southwest Plastic Surgery to schedule your consultation with one of our board-certified plastic surgeons.  While discussing results, cost, recovery, and preparation, consider most of all the benefits of getting chest implants. The great boosts to confidence and physique can be yours by contacting Southwest Plastic Surgery Practice today at our El Paso, TX office by calling (915) 590-7900 or our Las Cruces, New Mexico office by calling (575) 520 5041. For your convenience, you may also fill out our online contact form for more information. for more information.