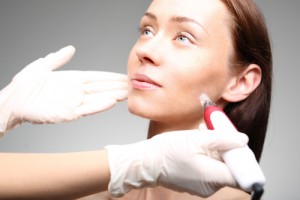 If you're looking for an alternative method for treating fine lines, acne scars, or aging skin – microneedling ( is a revolutionary new way to add plumpness and a youthful appearance to your skin.
How Does it Work?
Using several tiny needles, a handheld device is rolled across the area being treated. Each of the tiny pinpricks triggers collagen production at the site of the puncture. When several sites of collagen are developed, it creates a smoother surface with increased elasticity.
In some cases, we may also utilize platelet-rick plasma (PRP) as part of the procedure. The plasma, from your own blood, triggers an even more significant collagen response. (You may recall seeing Kim Kardashian have one done – it's sometimes referred to as a "vampire facial!")
After Your Procedure
After your needling procedure, we give you strict instructions as to what products can be applied to your skin for the next two days. Due to the microscopic punctures, your skin can pick up ingredients from certain types of products, and using the wrong ones could cause scarring. But don't worry – in just a few days you'll be completely back to normal with plumper, more vibrant skin that you can safely apply your favorite creams or makeup to.
Microneedling isn't a one time procedure. Instead, we'll recommend several sessions over the course of a month, and then maintenance appointments to help you keep up the results. Each session takes about 15 minutes, depending on the size of the area being treated.
Standards for the surgical alternative are still being established, but the aesthetic providers at Southwest Plastic Surgery have strict protocols in regard to who the ideal candidate is for the procedure. It's safe and effective for most people – and a great alternative to conventional surgeries or lasers.
A Natural Way to Smooth Your Skin
The collagen production response of microneedling is a great way for you to see straightforward, natural results from a cosmetic procedure. As the minor irritation triggers an inflammatory response, your body uses that stimulation to fill in the minor skin imperfections such as fine lines, wrinkles,or looseness that have been troubling you.
In 2014 the FDA approved combining microneedling with radio frequencies as part of the treatment process. This method enables us to also combat areas of stretch marks and cellulite!
Although microneedling devices are sold online, we recommend following the advice of your dermatologist or cosmetic surgeon. Improper use can cause unwanted scarring across your face. It's not worth the risk to do it on your own.
Microneedling at Southwest Plastic Surgery
Our cosmetic specialists use the Eclipse Micropen during each of these procedures. The light micro channels of the device also make it easier for your porous skin to absorb specific types of rejuvenating serums or creams to further fight the aging process.
This method is a comfortable way to treat areas on the face, feet, legs, buttocks, back, abdomen, chest, neck, arms and hands!
As we apply the pen, 12 small, sterile micro needles gently puncture the area being addressed. It's much more comfortable than you might expect! Our doctors will use a bit of numbing gel before the procedure to keep you as comfortable as possible.
To find out more about the process and see if it's right for you – schedule a consultation at The Med Spa of Southwest Plastic Surgery today. You can contact one of our specialists by calling (915) 590-7900 or filling out our online contact form.