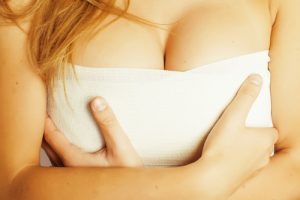 Before your breast augmentation surgery, it is important that you properly prepare for your procedure. Considering that breast augmentation is surgery, treating it like a serious procedure will help you create a safe recovery process. Now that you know how to prepare for your breast augmentation, it's time to learn more about what to expect during your recovery.
How will I feel after my surgery?
Patients will experience bruising and swelling of the breasts, which is very normal after any breast surgery. The majority of patients say the pain is tolerable and should alleviate within the first few days, but prescribed pain medication can be taken if desired. For two to five days, there will be some stiffness and soreness in the chest region. Patients should monitor how they feel and report to the doctor if they experience headaches, chest pains, dizziness, and/or shortness of breath.
How long will my recovery last?
Recovery time will depend on the patient's level of healing, the type of breast implants chosen, and the kind of anesthesia used. Ideally, heavy lifting and strenuous work should be avoided for two weeks. Light activity, exercise, and work can be resumed within four to six weeks. Although your resulting larger breasts will be apparent immediately, the breasts need time to drop and for swelling to resolve before the full outcome is revealed. Typically, residual swelling can last up to six months.
How can I ensure the best results possible?
You will be provided with specific instructions for surgical wound care. There are many factors that contribute to a successful breast augmentation surgery. Among the most important things to do post-surgery is wear a proper bra that will assist with healing. Patients should avoid wired or padded bras for at least two months. A special surgical bra will need to be worn day and night for a couple of weeks to protect the breast implants and help them descend into the ideal position.
Are there any side effects/risks associated with breast augmentation?
Breast augmentation is one of the most highly sought-after procedures in plastic surgery. Many medical and health experts have been performing the procedure for more than 40 years. Although breast augmentation poses minimal risks, patients should be aware of the potential complications of the procedure, such as:
Scarring

Capsular contracture

Implant rupture or leakage

Infection

Changes in nipple sensation

Pain and discomfort

Pulmonary complications
How much does breast augmentation cost?
The cost of breast augmentation can vary between $4,500 and $6,500 depending on the kind of breast implants chosen and the type of anesthesia used. The price of surgery will differ based on the surgeon's experience, the technique employed, and the geographic location of the surgery. At Southwest Plastic Surgery, our doctors are experienced and certified to perform breast augmentation surgery. Patients will be in safe hands. We will stay in close touch with you after surgery by scheduling weekly follow-up appointments during the recovery period.
To learn more about breast augmentation, schedule your consultation with one of our plastic surgeons today! Contact us by calling (915) 590-7900 or by filling out our online contact form.