3 Minute Read: 
We are proud to introduce AviClear™ – The latest, most versatile, and effective FDA-approved laser acne treatment available today.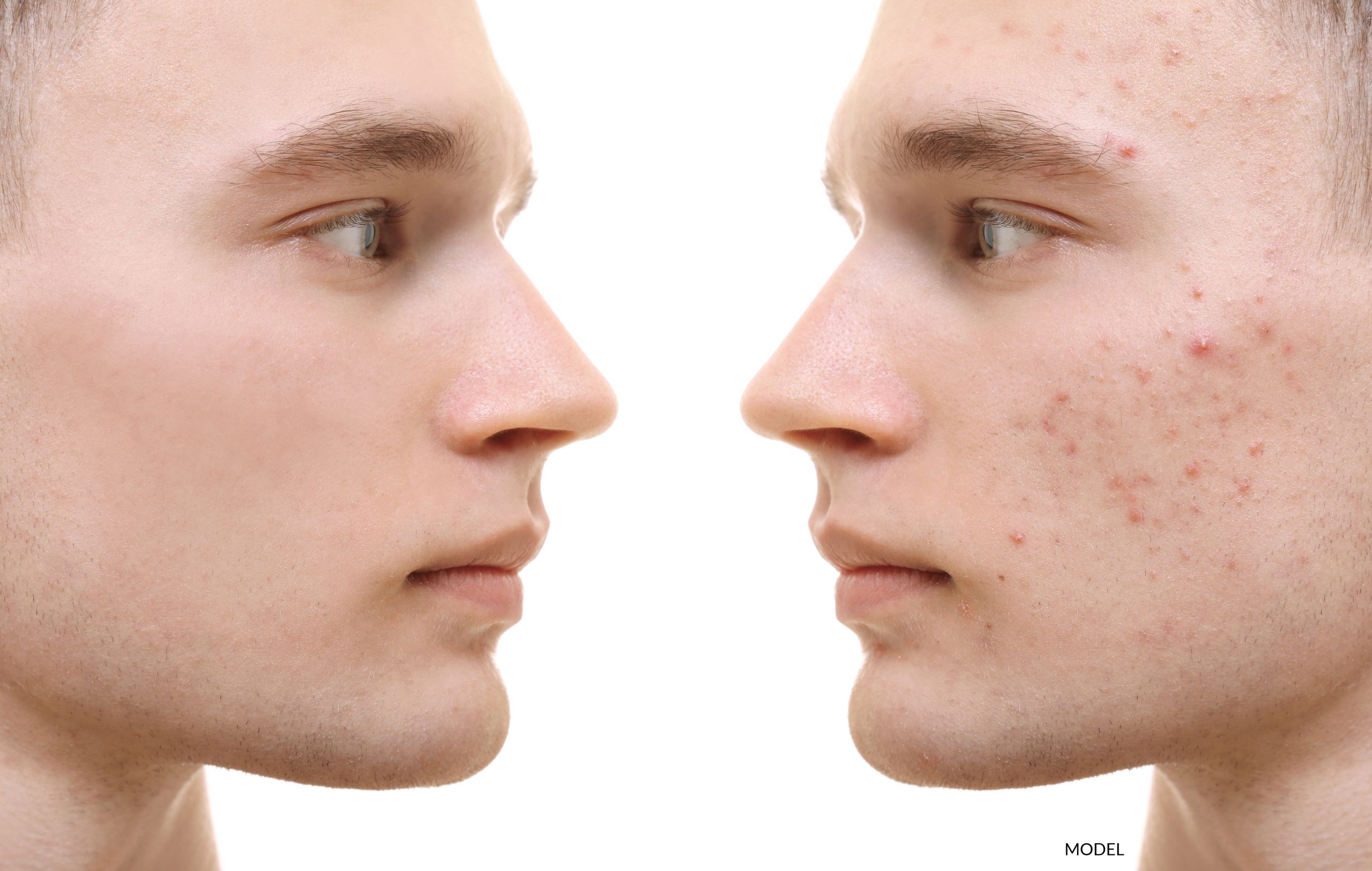 If you've used Accutane, Isotretinoin, antibiotics, and even other laser procedures to clear up your skin, only to find that the acne returns soon after, you should consider trying AviClear™.
How Is AviClear™ Different Than Other Acne Treatments?
While chemical peels, microneedling, and other laser procedures work to reduce acne by destroying the blemishes and encouraging healthy new skin to form, they ignore the root cause.
CUTERA®, the maker of AviClear™, took a hard look at the limitations and results that laser technology had previously achieved when used to treat acne. They then set out to develop a safer, more effective, and versatile treatment.
Instead of addressing only the effects of acne, AviClear™ uses advanced laser technology to target the sebaceous glands responsible for breakouts, helping to stop the acne cycle from continuing.
Other benefits include:
While other laser treatments may

damage melanin

, AviClear™ can be

used safely on darker skin

.

Besides treating

facial acne

, AviClear™ is effective for acne on the

back, shoulders, and chest

.

Individuals suffering from acne can be treated with AviClear™ no matter their age.
How AviClear™ Works
With precise targeting, the laser energy produced by AviClear™ is absorbed into the oil-producing glands (to minimize or destroy their ability to secrete) without affecting the surrounding skin.
During an AviClear™ treatment, you can expect gentle warmth and a mild zapping sensation, but the incorporated AviCool™ skin cooling technology prevents any significant discomfort.
This treatment typically requires three half-hour sessions spaced one month apart to achieve ideal results. There is no downtime after your procedure.
Who Should Not Receive AviClear™ Treatment?
Honestly, individuals of any age and skin tone with persistent acne are good candidates for AviClear™ treatment. However, if you are interested in this advanced acne treatment, follow these guidelines:
Avoid unnecessary exposure to the sun and tanning products for a few weeks before the procedure, and protect your skin with SPF sunscreen and appropriate clothing when outdoors.

Quit smoking or using all nicotine products, as this can interfere with healing and blood circulation.

Follow your provider's instructions about your daily skin care products and supplements, as some of these should be avoided before treatment.

Do not undergo other skin procedures before or after your AviClear™ treatment until your provider clears you.
What is the Data on
AviClear™ Results
?
AviClear™ was launched in April 2022 and has been clinically proven to reduce the frequency and severity of acne. In clinical trials, 90% of treated patients have maintained results for at least six months. 
Researchers expect the length of time these patients enjoy clearer skin to increase as they are followed.
Physicians, including dermatologists and plastic surgeons, are rapidly switching to AviClear™ to treat acne as patient demand continues to grow. 
Looking for
AviClear™ in El Paso, TX
?
Dr. Agullo serves communities in and near El Paso, Texas, offering next-level acne treatment with AviClear™ as well as other effective skin and laser treatments. Schedule an AviClear™ consultation today by calling (915) 950-7900 or contacting us online anytime.