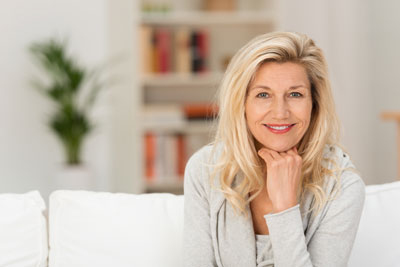 Like watching a train wreck, we're drawn to tabloid photos where a few poor stars, from Hollywood's elite, are plainly drowning in the fountain of youth. Their faces are artificially frozen in time, perfectly smoothed, perfectly plump and perfectly obvious to everyone else. In a modern world where numerous cosmetic interventions are available to turn back the hands of time, will you choose to gracefully give way to age or will you defy nature for a stubbornly youthful appearance?
It's Called Living
If you're still breathing, it's natural that you'll continue to age. It happens and every decade you'll notice the physical changes that go along with this natural process. It's one thing to use modern cosmetic advancements to enhance your appearance, but as with many things in life, more is not always better. At some point, augmentation becomes excessive and artificial. The key is finding just the right balance.
The First To Go
The initial signs of noticeable aging occur as collagen begins to diminish. Your body's natural elastin breaks down and suddenly your skin is less smooth, the creases that form from smiling, laughing and frowning become more prominent and obvious. It's thought that this process begins as early as your 20's and by the time you hit your 40's, it's quite noticeable.
Cosmetic Injections
There are many cosmetic options to counter the loss of collagen, for skin that appears naturally supple and youthful. Many are familiar with Botox, which disguises the most obvious result of collagen loss: wrinkles. By using this temporary injectable muscle relaxer, deep wrinkles are smoothed out and noticeably reduced.
Cosmetic fillers, like Juvéderm, Radiesse, Artifil, Restylane and Perlane, can be injected under the skin to recontour and plump hollowed out areas where collagen loss is most obvious. The results are dramatic and often instant, allowing a more long-term cosmetic enhancement.
Restoring Damaged Skin
An important aspect of a tastefully augmented appearance is repairing sun damage and flaws that appear with age. Chemical skin peels can remove older, wrinkled tissue to reveal the younger, newer skin underneath. For milder sun damage, microdermabrasion can gently remove the superficial epidermal layers and any flaws found there. Fine lines and tell-tale age spots can be diminished with the help of laser treatments. Subtly removing the signs of age and damage can help restore your youthful appearance, while still looking natural.
You Can't Go Back…
But you can choose how to go forward. Aging is inevitable, but if you'd like to do so gracefully, here are a few tips to keep in mind:
The difference between elegant enhancement and artificial cosmetic results lies in the hands of your practitioner. Be sure that your doctor is skilled, knowledgeable, and has up-to-date training on the latest techniques and advancements in plastic surgery.
A conservative eye is essential for creating a naturally younger looking appearance. You can have too much of a good thing and the results can be excessive and disastrous. Ensure that your doctor's ideas coincide with your own desired results.
It also helps to provide a photo, from your earlier years, that shows the natural, youthful contour and fullness of your face. Your practitioner can use it as a guide to restore the softer look of your youth.
If you're ready to look your best, why don't you give Southwest Plastic Surgery in El Paso a call today?