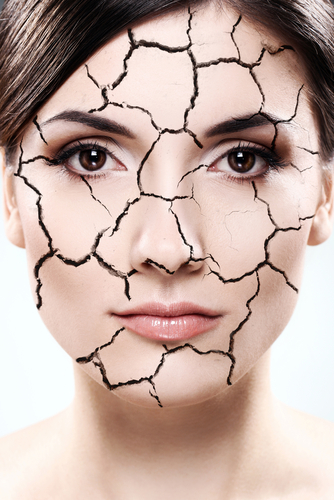 The winter blues might have you dreaming of tropical places, but if your skin is beginning to look like the Sahara Desert, it's time for some intervention. Baby, it's cold outside… and it's only natural for you to crank up the heat or indulge in a piping-hot soak in the bathtub. Not to mention washing your hands every few minutes so you won't catch what's going around at the office. So what's a girl to do when the cold weather has sapped the moisture from your skin?
Up Your Water Intake

– While a soak in the tub and frequent hand washing actually rob your skin of moisture; drinking more water can have the opposite effect. Replenish your skin's moisture from the inside out, to avoid skin that resembles sandpaper. Not only will your skin look healthier and soft, it'll also plump up those fine lines on your face. And who doesn't want less wrinkles?

Prevent Moisture Loss

– You can keep your skin from losing moisture, by sealing it in with a rich, creamy lotion. Skip the tub and opt for a quick shower, then while you're still damp, slather on your moisturizing oils or lotion of choice. Slip, quite literally, into your clothes and enjoy a smoother day.

Rethink Washing Your Face

– Cleansing your face each day, with water, can really sap the moisture from your skin.  Sure, it washes away makeup and impurities, but it also washes away those beneficial oils that act as a moisture barrier for your face. Instead, skip the soap (it can make dry skin even drier) and opt for a pH-balanced cleanser that's aimed specifically for your type of skin.  

Humidity Is Your Friend

– When the temps outside plummet, you naturally raise your thermostat to keep your indoors warm and comfortably toasty.  All that warm air feels delicious, but it's also skin-damagingly dry. With the help of a humidifier, you can add moisture back into the air. Show your skin a little love and place a humidifier in rooms that you frequently use.  Most especially, take it to bed with you.  Not literally, but place it in your room so that your skin can drink in that extra moisture while you sleep.

Fat Is Your Friend

– If you were looking for a good excuse to indulge in your favorite healthy-fat foods, here it is! Monounsaturated fat plays an important role in keeping your skin glowingly hydrated. So enjoy a healthy helping of guacamole – that avocado will do wonders for your dry skin. Replace your regular dressing with olive oil, for some additional moisture benefits. When it comes to snacking, reach for the macadamia nuts, almonds and peanut butter. They'll satisfy your skin and your cravings.

Get Your Daily Dose of Vitamin E

– If you're low on Vitamin E, "the skin vitamin", it shows. Your skin can look dull, dry and drab, but with a daily dose of Vitamin E, you can revitalize your skin, restoring its moisture. If you want to skip an over-the-counter vitamin and go straight to nature for your source, you'll find Vitamin E in olives, sunflower seeds, peanuts, almonds, wheat germ and leafy green vegetables.  
Has your skin lost its youthful luster?  Does your appearance need revitalizing and refreshing?Call today to set up a cosmetic consultation at The Med Spa at Southwest Plastic Surgery with one of our El Paso experts. You can make an appointment by calling us at (915) 590-7900 or filling out our online contact form.