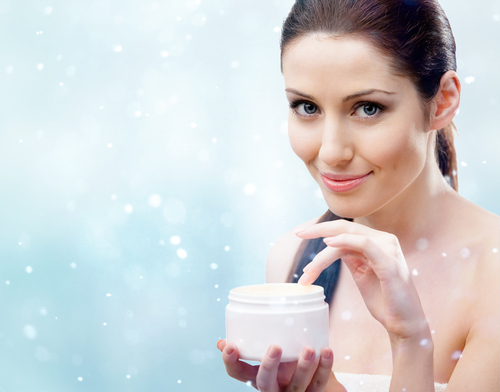 There's so much to enjoy during the winter months:  Brisk walks through the cool air, skating on frozen ponds and making snowmen in the gently swirling snow. It's a magical winter wonderland that just begs you to snuggle up in front of a warm fire, with a cozy blanket and a hot cup of cocoa. While wintry scenes might bring holiday songs to mind, when it comes to your skin, the beauty of winter is anything but harmonious.
Your skin is the largest (and most unprotected) organ of your body. It needs extra TLC every day to preserve and shelter it from the environmental damage that's all too common during colder months. If your delicate skin is suffering from winter's woes, there are ways that daily moisturizing, along with a few tips, can replenish it's soft, healthy glow:
1. Proactively Preserve
Before your wintry vacation, apply moisturizer twice a day. Pay special attention to parts of your body that will be exposed, and more likely damaged by the bitterly cold, dry air. Also, when delicate skin is exposed to cold temperatures, blood circulation in the smallest blood vessels becomes restricted. You can improve circulation, promoting healthier skin, by applying a good quality moisturizer.
2. Prevent and Treat
Ever notice how your skin feels driest in the wintertime? Lack of moisture in the air, worsened by turning up the heat on your thermostat, can leave your skin feeling like sandpaper. Along with applying a rich moisturizer, one of the best secrets to combatting wintry dried skin is adding moisture to the air.  By regularly using a humidifier in your bedroom while you sleep, your skin can regain lost moisture.
If you're suffering from a sniffle, that extra humidity will also help and adding a generous amount of moisturizer around the nostrils will prevent chapping caused by frequent tissue use. You can also prevent dry skin with a simple change to your nightly beauty regime. Skip the water when cleansing your face, which can dry your skin out even more. Instead, opt for a gentle facial cleanser and a washcloth to sweep the day's impurities from your face.
3. Protect and Heal
While humidity in the air does wonders for your skin, getting your skin wet has the opposite effect. When you can, avoid washing your hands with soap and water and reach for a non-alcohol, moisturizing hand sanitizer instead.
To combat and heal dry hands, regularly apply a rich moisturizer 3 to 4 times a day to rehydrate your skin and create a protective barrier from the damaging, cold conditions outside.
Does Your Skin Need A Little Help?
If your skin is feeling the harmful effects of the cold season, Southwest Plastic Surgery can help.  You'll be happy to find that there are many options available, at our El Paso Med Spa, to preserve the health and vitality of your appearance and enhance the areas that you'd like to look more youthful. Many of those solutions are non-surgically and minimally invasive.  
Whether you just need advice about the best moisturizer for your skin type or assistance restoring your healthy, youthful glow, our team of cosmetic specialists is happy to advise you. If you're ready to enjoy a healthier, more refreshed look, call us today to set up your consultation.
To learn more about how we can help you revitalize your skin after a long winter, contact one of our specialists today! You can make an appointment by calling (915) 590-7900 or filling out our online contact form.