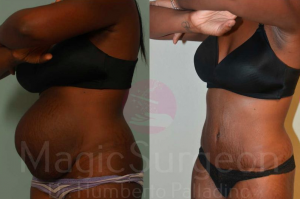 A lot of planning goes into preparing for tummy tuck surgery. One of the most important points of preparation—if not THE most important—is timing your procedure. Getting a tummy tuck at the wrong time could be problematic, but getting the procedure at the ideal time for you can ensure that you have the best experience, the smoothest recovery, and the most desirable results.
Who Is the Ideal Candidate for Tummy Tuck Surgery?
The ideal candidate for tummy tuck surgery has struggled to maintain or achieve a slender, defined waistline through diet and exercise. Abdominal laxity can permanently affect the appearance of the abdomen, and many men and women are unable to tone their abdomens without surgical help. Candidates for this procedure desire a sleek, toned waist and a leaner physique. They should have realistic expectations and good general health. As such, candidates should also be non-smokers and should be close to their ideal body weight.
When Is the Best Time to Get a Tummy Tuck?
Based on the above characteristics of the ideal tummy tuck candidate, individuals should plan to get a tummy tuck at the following times:
When You're Healthy: A tummy tuck is a major surgery, and poor health makes you more vulnerable to complications and infections. You should get a tummy tuck only when your doctor has approved your general health status, and you are feeling well and strong enough for major surgery.
After Weight Loss: Tummy tuck surgery is not a weight loss surgery and cannot help those who are struggling to control their body weight. Because candidates for tummy tuck surgery should already be of an ideal body weight, it is best to wait to undergo this procedure until after weight loss. Once your weight has stabilized, tummy tuck surgery can improve your abdominal contour by removing excess skin and fat and tightening the abdominal muscle wall.
After Childbearing: Pregnancy often has a profound effect on the appearance of the abdomen. If you are planning on having more children, you should postpone tummy tuck surgery until after your last child. After having children, you can get a tummy tuck to restore the shape of your pre-pregnancy waistline by correcting pooching abdominal muscles and removing overstretched skin and stubborn fat.
When Aging Catches Up With You: The natural aging process may lead to tissue laxity and stubborn fat accumulation in the abdominal area. A tummy tuck can correct symptoms of aging and give you a more youthful abdominal contour.
When You Can Take a Break: After your tummy tuck, you will need to take a break from normal life duties for a while to recover. Arrange your schedule so that you can take up to two weeks off, and plan your tummy tuck for during that time. You will also need to take several additional weeks off from certain tasks such as strenuous physical activities.
When You Feel Prepared: Major surgery can be stressful. Do not put added stress on yourself by trying to undergo surgery when you don't have childcare, financial support, or other important factors lined up. Make sure you have all your ducks in a row before getting a tummy tuck so that you can ensure everything goes as smoothly as possible.
When YOU Want It: You should never undergo an elective aesthetic procedure because someone else wants you to do so. This is a major ordeal, and you should want it for yourself. If you want a tummy tuck to enhance your body shape and correct your abdominal contour, schedule a consultation with one of our plastic surgeons at Southwest Plastic Surgery to determine if this is the right procedure and right time for you.