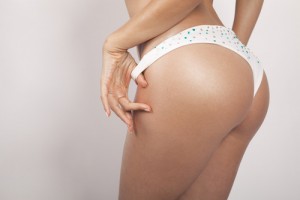 We have Hollywood starlets like Beyoncé and Kim Kardashian to thank for the fastest growing cosmetic procedure of our time, which is the butt augmentation. What was once a characteristic women tried to hide under clothing is now something they want to make bigger or more shapely. Having an ample booty gives women a more curvaceous, voluptuous appearance, although when amplified, it may require a new wardrobe to accommodate the larger size backside.
The ASAPS – American Society of Aesthetic Plastic Surgery stated that the number of women who received butt augmentations last year had grown by 86% – which is in large part attributed to the major stars that are setting the trend.
There are several methods of butt augmentation that are popular, with one being the "Brazilian Butt Lift" which is done through fat injections. Also known as BBL, Dr. Agullo of Southwest Plastic Surgery in El Paso takes the excess fat stores from a patient's thighs, waistline or hips and redistributes it to the buttocks. It not only makes the butt appear fuller and rounder, but also gives the patient a round, firm looking derriere.
Some patients opt for other types of butt procedures, such as a butt augmentation with implants, which is reserved mostly for patients who do not have enough fat stores from other body parts to do the fat transfer.
Dr. Agullo recommends everyone to avoid any type of other injections to the buttock. There have been some serious big booty mishaps in the news recently, with two women in New York dying from getting silicone injections done. Alejandra Guzman and others have had serious complications from cement or PMNA injections. Dr. Agullo has reconstructed over twenty patients with mineral oil or "collagen" injections. There is no other product, other than your fat, which should be injected into te buttocks.
Dr. Frank Agullo is a board certified plastic surgeon in Texas and New Mexico and performs hundreds of cosmetic enhancements and surgical procedures each year. He has won numerous awards, including Rising Star SuperDoctor of 2012, as well as holding the title of Clinical Associate Professor of Plastic Surgery at Texas Tech University Health sciences Center and University of Texas in El Paso. Dr. Agullo is one of the few buttock experts offering the full array of buttock procedures in the Southwest.
Those considering butt augmentations or butt lifts should contact Dr. Agullo at Southwest Plastic Surgery today to schedule a consultation. You can even see "after" photos of what your potential new butt will look like through a remarkable technology called the 3D Vectra Imaging System. Contact the office at 915-590-7900 today.