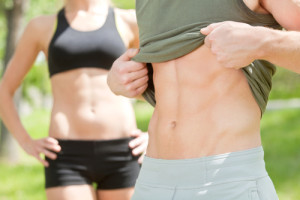 Despite the most strenuous efforts with diet and exercise, many of us simply cannot reduce fat in our midsection. Aging, pregnancy, and weight fluctuations all affect the way fat is distributed in the abdomen, often leaving us with stubborn "love handles," "spare tires," and "muffin tops" we wish would simply disappear. Fortunately, Southwest Plastic Surgery now offers the ultimate nonsurgical solution to defeat these common waistline woes: Vanquish.
How It Works
Aptly named, the Vanquish applicator eliminates fat from the body without ever touching it. The device is suspended above you as you lie comfortably throughout the 30-minute treatment. You will feel no pain as radio frequency waves target stubborn fat cells with heat, which will lead to cell destruction. Since fat cells are denser and hold less water than other cells, no damage will be done to the skin or surrounding tissue. Patients are advised to drink plenty of water before and after treatment to encourage the dead fat cells to filter through the lymphatic system and leave the body permanently. No downtime is required; patients can resume normal activity immediately after each treatment.
Best Candidates for Vanquish
Vanquish is not a treatment for weight loss, excess skin, or cellulite. (For excess skin removal, patients will experience best results with abdominoplasty.) Those who experience the best results are within ten percent of their ideal body weight and have abdominal fat that is resistant to diet and exercise. After just a few treatments with Vanquish, most patients lose several inches from their waistline without even changing their diet.
Results
The results with Vanquish are permanent; the fat cells that are eliminated will never return. If any weight is gained after treatment, it will be dispersed differently that it would be if the area were never treated with Vanquish. For those who have difficulty with stubborn abdominal fat and are not ready for downtime associated with liposuction, Vanquish is the perfect nonsurgical alternative.
If you would like to vanquish your stubborn abdominal fat for good, please schedule a consultation with one of Southwest Plastic Surgery's board-certified plastic surgeons. Please call (915) 590-7900 or fill out our online contact form today. We look forward to hearing from you!