4 Minute Read: 
There's something to be said for investing in yourself, and most of us do in one way or another.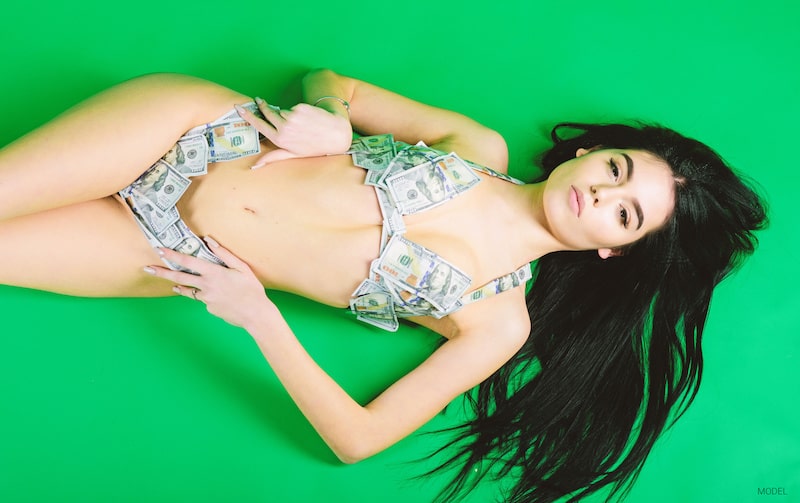 We may even get support from our peers for spending money to purchase the healthiest foods or fill our closets with expensive clothes that help us "dress for the job we want." 
However, that's not often the case when we want to change the appearance of our faces or bodies, even though it's been proven that an appealing aesthetic can contribute to success. 
The truth is, when it comes to beauty, like most things, we have a dichotomy. 
When money isn't an issue, looking great isn't much of a problem, and when it is, having good credit can help. 
Saving Up for Plastic Surgery
Even if you plan to borrow, starting to save money specifically for your desired procedure can help bring your interest costs down. 
If you plan to use a zero-interest option, paying some of the cost upfront will reduce both the amount you owe and your risk of incurring higher interest rates or penalties for not paying off your debt within the zero-interest window.
If you have any credit challenges, you'll want to save as much as possible because you may not qualify for a low or zero-interest interest finance option.
Before You Explore Your Credit Options
It's a good idea to understand your readiness to undergo plastic surgery and how much time you have to prepare yourself. To be a candidate for plastic surgery, you must not smoke and be at a healthy, stable weight. 
If you need to get closer to your ideal weight or quit smoking to be eligible for plastic surgery, you can also use the time it takes accomplishing these goals to save money. If you smoke, you can commit funds you would have spent on continuing the habit toward your surgery or payments instead.
Using Credit Cards or a Personal Loan to Pay for Plastic Surgery
If you're one of those people with zero-interest credit cards just waiting to be used or can easily qualify for one, double-check the fine print on repayment terms and retroactive interest rates or penalties. 
If you need more clarification, call the credit card provider and ask what your interest rate will be after the zero-interest promotional period ends, as this should be based on your credit rating.
Many of these cards offer introductory zero-interest for up to 21 months, but you'll want to compare their terms with one of the following three medical-use credit cards also offering introductory zero-interest rates.
1. CareCredit® 
The CareCredit® card is a popular medical-use credit card with a limited-term, zero-interest option for a minimum purchase of $200. 
CareCredit® offers zero-interest rates for as long as two years but charges 26.99% or more retroactively if the balance is not paid within the specified term.
If you are not confident that you will be able to pay the entire balance by the end of the zero-interest period, CareCredit® also offers plans with rates from 14.90% to 17.90%.
2. ALPHAEON®
ALPHAEON® is another card that offers a limited zero-interest term for purchases of $250 or more for six months and $500 or more for up to 24 months. 
If your balance is not paid by the end of the promotional term, you can expect a 28.99% APR to be imposed on your remaining balance and other penalties.
Like CareCredit®, ALPHAEON® offers low-interest terms of 14.99% for up to 48 months on a minimum purchase of $1,000 and up to 60 months when you spend at least $2,500.
3. PatientFi
PatientFi also offers both zero-interest and varied APR rates. They claim a higher approval rating with no hidden fees or compounding interest and provide this handy payment calculator. 
Applicants should have a credit score of at least 620 to apply with PatientFi or CareCredit® and a credit score of 640 and above to apply with ALPHAEON®.
Personal Loans for Plastic Surgery and Other Cosmetic Treatments
A good relationship with your credit union or bank may help you qualify for a low-interest personal loan, or you might consider these five financial institutions, which have been rated by Forbes magazine:
Avoid Using
Less Experienced Cosmetic Surgeons
To help ensure safety and quality results, always choose a board-certified plastic surgeon and never base your decision on easy financing or discounts offered. 
You should have no problem finding a qualified surgeon who accepts medical-use credit cards. 
Southwest
Plastic Surgery Financing in El Paso, TX
Southwest Plastic Surgery in El Paso is overseen by Dr. Frank Agullo, a reputable, board-certified plastic surgeon who accepts medical-use credit cards and most other forms of credit. 
His pay-as-you-go option allows you to pay down the cost of your procedure before it is performed. Our Southwest Plastic Surgery care coordinator can help you understand all your options.
Learn more about financing plastic surgery in El Paso, Texas, by calling Southwest Plastic Surgery at (915) 590-7900.