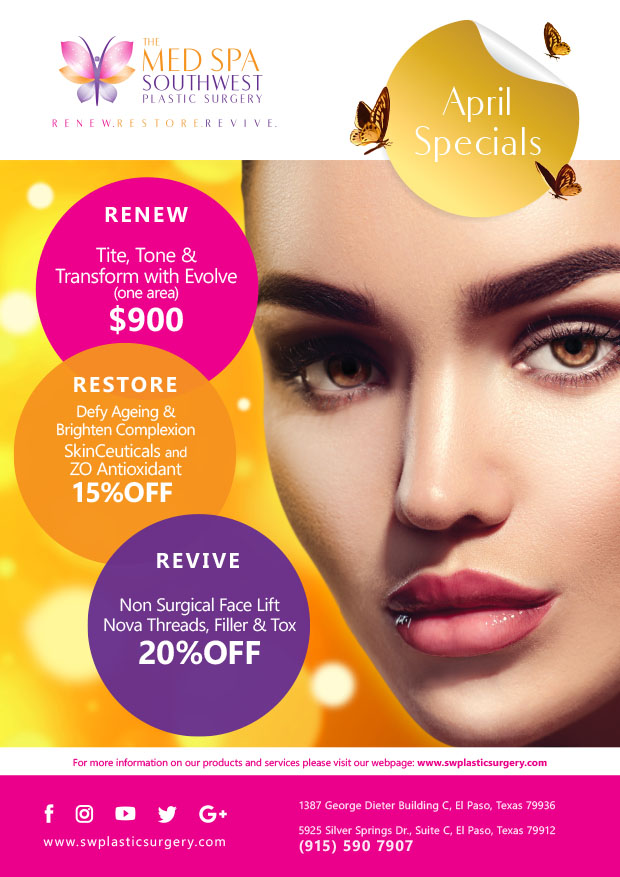 EXPERIENCE A SEASON OF RENEWAL WITH UNBEATABLE DEALS ON TOP TREATMENTS
Spring has arrived, and with it comes the opportunity to refresh your appearance and enhance your self-confidence! This April, MedSpa Southwest Plastic Surgery is delighted to present a selection of exceptional specials on our most sought-after treatments. Don't miss out on these limited-time offers as you embrace the season of renewal with a rejuvenated, glowing look!
REDEFINING CONTOURS: EVOLVE TITE, TONE, AND TRIM (ONE AREA) – ONLY $900
Achieve your body goals without going under the knife with our Evolve Tite, Tone, and Trim package. Utilizing advanced technology, Evolve targets stubborn fat deposits, tightens the skin, and tones muscles simultaneously. For just $900, transform one area of your choice and experience the remarkable results of Evolve. Say farewell to unwanted fat and welcome a beautifully sculpted, self-assured you!
TURN BACK TIME: SKINCEUTICALS AND ZO ANTIOXIDANT – 15% OFF
Combat the signs of aging this spring with our Turn Back Time special, featuring the potent combination of SkinCeuticals and ZO Antioxidant products. Rich in antioxidants, these formulas shield your skin from environmental harm, diminish the appearance of fine lines and wrinkles, and reveal a brighter, more youthful complexion. Pamper your skin with a 15% discount on these exceptional products and rediscover your radiant glow.
REJUVENATE & LIFT: NON-SURGICAL FACELIFT WITH NOVA THREADS, FILLER, AND TOX – 20% OFF
Discover the secret to a revitalized, lifted appearance without resorting to surgery. Our Rejuvenate & Lift special combines the power of Nova Threads, dermal fillers, and neurotoxins like Botox, Dysport, or Jeuveau for a natural, refreshed look. Nova Threads provide an instant lift, while fillers restore volume and smooth out wrinkles. Tox treatments relax facial muscles, further reducing the appearance of lines and wrinkles. Enjoy a 20% discount and experience the wonders of a non-surgical facelift without the recovery time.
UNLEASH YOUR INNER BEAUTY THIS SPRING
There's no better moment to invest in your self-confidence and appearance than the season of renewal. MedSpa Southwest Plastic Surgery's April specials provide an array of treatments designed to renew, rejuvenate, and lift your look at irresistible prices. Seize these limited-time offers – book your appointment today and step into spring with a stunning, revitalized appearance! Schedule a consultation with us today! If you have questions or want to learn more about how it can help you, please call Southwest Plastic Surgery at (915) 590-7900 or fill out our contact form online.