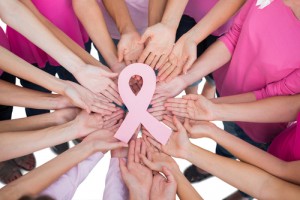 Since October is Breast Cancer Awareness Month, we thought it would be the perfect time to talk about breast reconstruction after cancer treatment with mastectomy. In a previous post, we mentioned that the cost of breast reconstruction is covered by most health plans, which is a fact that many cancer patients are unaware of. Today we will discuss the important decision-making process along with a few of the techniques offered at Southwest Plastic Surgery to provide the most natural breast appearance.
According to the most recent statistics, one in eight American women will develop breast cancer over the course of her lifetime. Although the disease is common, it is no less emotionally taxing for victims and their families. Breast cancer claims the lives of tens of thousands of women each year and is the second leading cause of death in women. After treatment with mastectomy, some women choose to live without breasts or with only one breast because it serves as a reminder of their victory over cancer, while other women feel that an important part of their femininity is now missing. Here at Southwest Plastic Surgery, we understand that the decision to undergo breast reconstruction is a very personal one. At your initial consultation for reconstruction surgery, we will provide you with all the options and help you decide if breast reconstruction is right for you.
What are my options?
While there are several options available, it is important to know that not all patients are candidates for all types of reconstruction. If you have had or will have radiation therapy, it may influence the type of reconstruction as well as the timing of your procedure. While timing depends on several factors, it is never too early to talk to your physician about breast reconstruction. In fact, those who have just received their cancer diagnosis can begin talking to their doctor about their options for reconstruction right away.
There are three methods of breast reconstruction:
Reconstruction with implants
Autologous reconstruction (using the patient's own tissue)
Autologous reconstruction with implants
Autologous Reconstruction
The patient's own tissues are used for autologous breast reconstruction, which often results in a more natural breast look and feel. Tissue is taken from either the abdominal muscle (TRAM Flap technique) or from the upper back (Latissimus Dorsi Flap) to create the new breast mound. Many patients prefer the TRAM Flap technique because of the added benefit of the improvement in the abdominal contour with the procedure.
Implant Reconstruction
When implants are used for reconstruction, they can be placed at the same time as mastectomy surgery (known as one stage immediate breast reconstruction) or with a tissue expander that involves two separate procedures (two stage breast reconstruction). In all implant reconstruction procedures, we use a biologic mesh to allow for better breast contour and shape by supporting the implant.
Since Southwest Plastic Surgery has one of the highest volumes of breast reconstructive surgeries in the southwest, our staff has the experience necessary to provide you with a wealth of knowledge on this procedure. Whether you have had a mastectomy or you have been diagnosed with breast cancer and will have a mastectomy, please schedule a consultation with our practice. Our surgeons can inform you of all your options and answer any questions you may have. Please call (915) 590-7900 or fill out our online contact form to book your appointment.