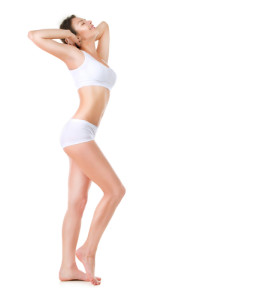 You are probably familiar with laser hair removal and the fact that it is a permanent and cost-effective solution for unwanted hair. You can say goodbye to unsightly hair once the laser damages the follicle and prevents hair regrowth. What you may not be as familiar with are all the other skin issues that lasers can treat. You could say that laser treatments are the Renaissance Man of the non-surgical plastic surgery community.
Skin Tightening  
Have you noticed that your skin is beginning to sag? Maybe it doesn't look as taut and youthful as it once did. However, it isn't so aggressive that you would consider undergoing facelift surgery. At Southwest Plastic Surgery, we offer the SkinTyte™ system to non-surgically tighten the skin. SkinTyte™ is a light-based laser system that stimulates collagen production deep in the dermis. The new collagen in your tissues fills in wrinkles to smooth and firm the skin. Patients notice results after their first treatment, but multiple treatments may be necessary to achieve ideal results.
Southwest Plastic Surgery also offers a revolutionary new method for the rejuvenation of the face called Ultherapy®. Although it is not strictly a laser, through the power of ultrasound, Ulthera can tighten the skin around the eyes, cheek, neck, and decolletage, providing a non-surgical facelift!
Skin Resurfacing
Wrinkles, acne, and scarring are the top causes of dull, aged skin. While drugstore washes and creams can help minimize damage, they only work on the surface of your skin. Profractional laser treatments work deep in your skin tissues to correct the effects of wrinkles and acne. These laser treatments target specific trouble areas of your skin to provide custom results. Since a topical anesthetic is used, profractional treatments are virtually pain-free. Many patients notice dramatic results after their first treatment and continue treatment to achieve their ideal goal and maintain their results.
Facial Redness
Rosacea, commonly known as facial redness, affects hundreds of thousands of people. It is usually expressed as a constantly flushed complexion and is caused by visible blood vessels. Advanced Intense Pulsed Light (IPL) treatments can treat facial redness as well as correct hyperpigmentation and brown spots caused by sun damage. IPL treatments are tailored to each patient and can be performed periodically to maintain results. Treatment areas aren't limited to the face and may include the neck, arms, hands, chest, and legs.
Spider Veins
Spider veins usually appear as red, purple, or blue veins that are thin, look like the legs of a spider, and sit directly under the skin's surface. Spider veins can be unsightly, and more severe vascular problems (like varicose veins) can be painful. They commonly occur on the legs but may be present on the face, chest, and arms. ClearScan YAG™ laser therapy removes surface veins by destroying the structure of the vein. Results are permanent, but depending on the extent of your vascular issue, multiple treatments may be necessary to treat all visible veins.

If you are looking to correct the appearance of your skin with non-surgical treatments, laser therapy may be right for you. The surgeons at Southwest Plastic Surgery are highly trained in laser treatments, and their goal is to help you achieve beautiful, youthful skin. Contact our office at (915) 590-7900, or fill out our online contact form here for more information.