Anytime we win an award, we do so humbly and graciously, knowing that if it were not for our stellar patients and their great reviews and recommendations, we would not be able to achieve it. Last year in their 2013 December/January issue, El Paso "The City" Magazine readers voted us the city's best cosmetic surgery practice in Southwest Texas for 2013. Southwest Plastic Surgery was selected once again in 2014 as "Best of the City Cosmetic Surgery Practice" for El Paso.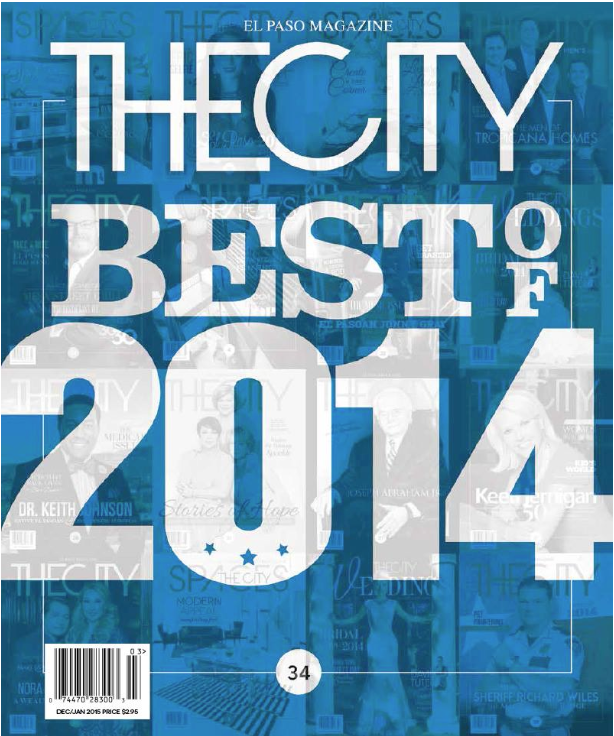 Being selected as Best Cosmetic Surgery Practice twice in a row means so much to us, considering the votes were taken from both the City Magazine's Editor's Picks, combined with nearly 150,000 reader's votes. The City Magazine is the official regional magazine representing El Paso, TX, and the Southwest.
Southwest Plastic Surgery has three, board-certified plastic surgeons available. All three of them are experienced plastic surgeons in El Paso providing the full spectrum of plastic surgery services. Both Dr. Frank Agullo and Dr. Humberto Palladino have won awards as Texas Super Doctors and are listed among the top 10 Cosmetic Surgeons in the country by Aesthetic Everything. Dr. Agullo and Dr. Palladino received their training together at the Mayo Clinic, one of the most renowned healthcare institutions in the United States. Dr. William T. Miller was selected best Plastic Surgeon in 2014 by the readers of El Paso Times.
This award comes on the heels of Dr. Agullo and Dr. Palladino both being included on the prestigious Castle Connolly Top Plastic Surgeons list, making their name known throughout the country.
"Thank you, once again," expressed Dr. Frank Agullo. "It means so much for us to have been chosen by The City Magazine as the Best Cosmetic Surgery practice in El Paso. We strive to live up to that honor in both the customer service and the way we treat our talented staff."
"We appreciate everyone who voted and will continue staying up-to-date with the latest innovations in the plastic surgery industry to ensure that our patients will have a first class plastic surgery experience available to them." added Dr. Humberto Palladino.
Southwest Plastic Surgery also offers the full spectrum of noninvasive treatments at The MedSpa at Southwest Plastic Surgery state of the art facility. Patients benefit from the latest technologies including Vanquish, which reduces waistline by 2-4 inches without any downtime, and Ulthera, the first and only system for nonsurgical face and neck lift. The MedSpa also offers laser hair removal, laser resurfacing, Forever Young BBL, microdermabrasion, Platelet Rich Plasma (PRP) treatments, chemical peels and LED therapy to name a few. The Aesthetic Nurses at The MedSpa provide the full spectrum of injectable modalities, including Botox, Juvederm, and Voluma. The MedSpa also counts with aestheticians which provide facials, lymphatic drainage massage, body scrubs, and relaxation massages.
Call Southwest Plastic Surgery today at (915) 590-7900 to enjoy the best plastic surgery experience of the region.